There was a time when only paper forms were available to fill up for every kind of registration or agreement deal. But now time has changed and every kind of form is available in digital format that doesn't require the wastage of paper as well as the long processing time. Just fill the form on websites with exact required information and it will reach the destination just within a click. To make it possible, the PHP form builder scripts for developers has played a very important role. This script is used to easily develop forms for various purposes whether it is for official or casual use.
Generally, a form builder consists of features that allow the developer to define fields with suitable content. To make the process of form submission more easy, developers uses various scripts that you will find in this article. For the developers having knowledge of HTML and CSS, the process of form building is very time consuming. This is the reason why PHP form builder scripts for developers are currently in trend. If you are also a developer and want to simplify your form building task with PHP scripts then here are some best options to choose:-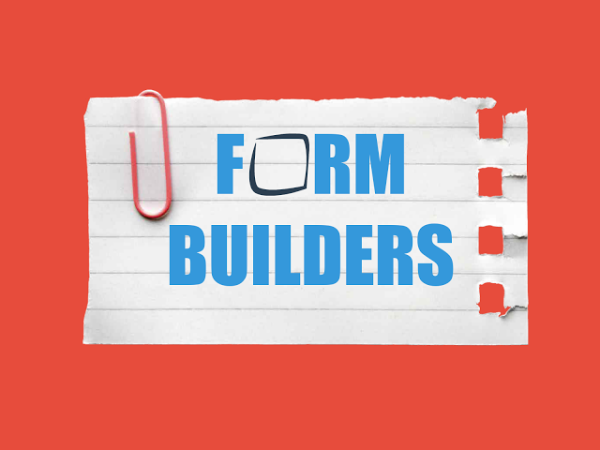 15 Best PHP Form Builder Scripts for Developers:
You will not need to download any kind of setup to make it work because JotForm is an online form builder that comes with very powerful features. The best thing that you can get with this PHP form builder scripts for developers is email for each response. This enables you to monitor and keep record of every individual end user who is using your services. It is available for free of cost, very easy to use and highly customizable according to the requirement of every website.
For creating all kind of website forms, this is the4 ultimate solution that doesn't require any kind of language knowledge. You can create fully functional forms by adding fields with just one click and drag & drop feature is also very user friendly. It requires WordPress version 4.3 or above to integrate. Along with free version, a paid version is also available in case your requirements are more than available in free version.
With just few lines of codes, you can build online forms with great usability. One of the best features of using this form builder is that it automatically creates the form fields by using database table names. This script also handles data submission code without writing any kind of code. On the official site of formdoid, you will get the registration form demo and also view code that anyone can customize according to requirement.
This is a completely dedicated form builder for creating submission forms as well as completing online surveys. You may get the trial demo of their services or signup for free to start usin their services. It is among the PHP form builder scripts for developers, that more than 100 customizable templates and 40 inbuilt question types for creating different kind of registration and survey forms.
This is one of the powerful PHP form builder scripts for developers that have drag and drop function with live preview option to see the real time progress. Both standalone as well as wordpress versions are available on internet to download. The customizable design, translation of multiple languages and responsive layouts are the most appealing factors to choose this form builder instead of others.
If you are in a business of creating forms foe multiple websites then try this form builder at once. Here you will get highly customizable forms for contacts, feedback, submission, signup and everything that is currently trending on internet. You can also get PHP beginners guide to understand how to implement this script in web pages for an effective result. It contains 20+ jQuery plugins and more than 70 form templates for professional level output.
This form builder is formed by merging two former tools named as form builder + form element generator. It comes with a number of accessibility tools such as accessible table builder, ARIA slider generator and Favelets. In the general tools development section, you can find markup maker, acrobat, Response.Right and many others. You can also analyze the existing bottlenecks, errors and issues through this PHP script to improve the productivity.
This is among the PHP form builder scripts for developers that provide a simple contact form for registration on websites. For every kind of interaction with end user such as contact, feedback, date booking, one can implement this script and enhance the productivity of website. It is capable of embedding your web forms, support multiple languages and available for free of cost. It has also a customization feature that enables a license holder developer to customize the existing script according to the requirement.
This is an online form builder that doesn't require any kind of downloading and installation procedure. All you need is to sign up for free and create amazing responsive forms for websites without the help of any code. Some forms that you can create through this online tool are:-
Survey & feedback
Registration form
Order and booking
Signup forms.
All these forms can be created with the help of wide range of templates provided on the official website.
Vanilla form is one of the PHP form builder scripts for developers that are compatible with all screens including mobile, tablet and PC. It is a clear, minimal and great functional contact form that is very user friendly. For security purpose, the anti spam protection is also provided so that developer do not face any kind of conflict. You can easily switch to any of the platform by clicking on icons at upper right corner of home page.
If you are searching a form builder that doesn't require any complicated process to build contact forms then try this one. It is among the PHP form builder scripts for developers that require only one time payment for lifetime subscription.  Hello form builder has a user friendly interface and you can use it to generate PHP contact form with email functioning. It is a fully responsive, self hosted and has capability of producing unlimited number of forms.
Super forms works with easy to use features such as drag and drop to create beautiful online forms. By subscribing to their services, you will also be able to use 57 demo forms for different kind of websites. It includes 30+ elements and more than 850 icons to create a unique and useful form. This form builder is fully responsive and works on all devices with every kind of resolution. The email auto responder and conditional logic features have made this script different from others.
This is among the free of cost and very simple PHP form builder scripts for developers. With just one click, you will be able to create contact forms for various purposes. Also its integration process with website is very easy and a beginner can also do this. Kontactr is capable of providing captcha protected forms that controls the automated form submission with spam. It is highly customizable with different kind of color schemes and also has an option of simple copy paste for code language.
With the help of this website, you can easily create HTML forms within few minutes and it also contains 25 different templates. Choose any of the sample and click on next button to proceed. In the next page, different tools are provided to create the fields of forms such as single line text, paragraph text, name, time, address and email etc. just select the requirements from available fields, specify the form & field properties, & you will be able to integrate it with any kind of website.
If you are looking for easily accessible, secure and free of cost PHP form builder scripts for developers then this is the perfect one. Just create a form by adding required fields and download it for further use. It is capable of hosting your forms on your personal website. There are 2 options available; either you can send auto response personalized mail or send the copy to sender.